WHAT IS GHR PLATINUM FOR MEN?
GHR Platinum for Men
, America's ONLY, natural and organic Human Growth Hormone supplement specifically designed just for MEN. No hormones, no side effects and Doctor formulated with clinically proven ingredients to help men increase the masculine body's own "youth hormone" known as HGH.
GHR Platinum for Men has been known to radically improve the appearance and even reverse aging symptoms for others. Making some feel and look 10 to 20 years younger in many aspects. Its been carefully enhanced with Ultratropin™ to help maximize natural HGH as well as increase testosterone, reduce abdominal fat, block DHT for hair loss, block estrogen, increase libido, improve prostate health, enhance athletic performance and increase more masculine muscle.
Results are guaranteed by a 90 day money back guarantee. Increase your energy and stamina, get much deeper, more restful sleep, burn body fat, thicken hair, lower blood pressure, regulate blood sugar, restore natural hair color, relieve arthritis and joint pain, improve the vision and more in just weeks with GHR Platinum for Men.
INCREASE ENERGY
IMPROVE MEMORY
DEEPER SLEEP
THICKER HAIR
REDUCE WRINKLES
RELIEVE JOINT PAIN
LOWER BLOOD PRESSURE
RESTORE HAIR COLOR
TESTOSTERONE SUPPORT
ENHANCE ATHLETICS
REDUCE ABDOMINAL FAT
HIGHER LIBIDO
INCREASE MUSCLE
ESTROGEN BLOCKER
PROSTATE HEALTH
GHR PLATINUM FOR MEN - THE ONLY NATURAL HGH COMPLEX FOR DESIGNED JUST FOR MEN.
NOW COMBINED WITH THESE NEW MALE ENHANCEMENT INGREDIENTS:
RHODIOLA ROSEA is a very potent adaptogen herb used to improve athletic performance, elevates the capacity for exercise, improves physical endurance, increases energy, fights cancer, improves diabetic conditions and aids in weight reduction. Rhodiola Rosea has also been shown to shorten recovery time for workouts and physical activities. Also known to increase the body's ability to properly adapt to stress.
FENUGREEK EXTRACT is a medicinal plant known to naturally restore testosterone, enhance athletic performance and libido in men. Also shown to lower blood pressure and blood sugar for diabetics.
TRIBULUS TERRESTRIS known to maintain proper testosterone levels in men, increase libido and helps prevent erectile dysfunction. By promoting protein synthesis and positive nitrogen balance, tribulus terrestris helps speed muscle recovery time, as well as strengthens and increases overall muscle mass.
YOHIMBINE is derived from the bark of the yohimbe tree. It's known as a very common natural ingredient in energy drinks due to its ability to increase blood flow and deliver nutrients to working cells thus improving athletic and physical performance. Used as a powerful aphrodisiac due to its ability to arouse sexual excitement.
NETTLE ROOT comes from the stinging nettle plant. Known as a natural DHT blocker to help prevent hair loss and to naturally restore testosterone. Used to relieve the symptoms and supports a healthy prostate. Reduces nighttime urination and even relieves joint pain.
BIOTIN a water-soluble B-vitamin known to help prevent hair loss and plays a pivotal role in supporting metabolic function. Works as a co-enzyme to help break down food, particularly carbohydrates which in turn, accelerates the body's ability to shred body fat.
D-ASPARTIC ACID An amino acid linked with testosterone production that improves many aspects of both physical and mental health. Increased energy, increased muscle strength, improved mental cognition and improved heart health. Also known to help the pituitary gland restore Human Growth Hormone.
ZINC is an "essential trace element" necessary for human health. It's particularly important for men because of its role in maintaining good prostate health, testosterone levels and overall sexual health.
SAW PALMETTO is a plant known to decrease the size of and improve the overall health of the prostate. Research shows saw palmetto moderately decreases erectile dysfunction by improving sexual performance. A surprising benefit as well is its potential to promote hair growth despite the onset of male pattern baldness.
90 DAY MONEY BACK POLICY!
ALL NATURAL, NO GMOs AND GLUTEN FREE. MADE WITH ORGANIC INGREDIENTS AND FORTIFIED WITH ULTRATROPIN.
GHR Platinum Men's Formula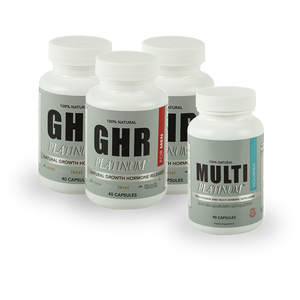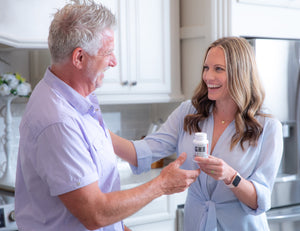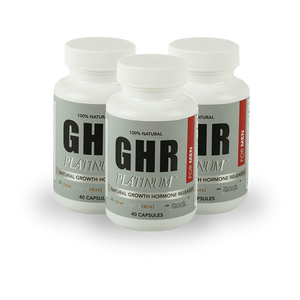 Over 20,000 clinical studies have confirmed that increasing our HGH level slows down and even reverses the effects of aging. GHR Platinum for Men is a safe, natural alternative to Hollywood's HGH injections. Used by professional athletes, Olympians and pro dancers from Dancing with the Stars. Men all across America are looking and feeling better than ever. It's all natural, affordable and again, 100% satisfaction guaranteed. So, if you're interested in maximizing your body's masculine and healthy physic or feeling and looking possibly 10 to 20 years younger within a matter of weeks, click on our Buy 2, get 1 free offer and start GHR Platinum for Men now!!